sons of Bantayan Island in Sta Fe Beach
Day 1: 08 June 2012 Sta Fe,
Bantayan Island,
Cebu
11:07 North Bus Terminal; Fare to Hagnaya was P150.
01:03 San Carlos Stopover
3:27 Hagnaya Port;
4:00 ETD from Hagnaya Port
5:08 Arrival in Sta Fe Port
5:40 Leave Beach Placid for Town Tour
6:14 Arrive in Mangrove Forest
6:27 Arrive in St Peter & Paul Church; Go to ATM; Dine in Carlito's Chicken nr Plaza; Back to Sta Fe and go round town proper along restaurants;
8:16 Try Tristan's Pizza; Head back to Resort and change for Route 66 Comedy Bar;
9:45 Arrive in Route 66; Beer was at P80/red horse litro
12:10 Leave Route 66 and Head to Resort
some more story
here
9:30 Leave Beach Placid for Bantayan Island Tour
10:36 Arrive in Bantayan Island Nature Park Resort; P100 day tour inclusive of billiards and videoke use and cave swimming. Fish Spa; Swim in the Cave; Lunch; Take Silion Route on the way back
1:29 Brgy Silion; Pictures along coastline;
2:11 Back in Beach Placid Resort; Clean up and take motorbike to Bantayan Town Proper and Madridejos
10:20 Back to Beach Placid




abandoned cottage in Malapascua Island





















10:15 Arrive in Sta Fe Port
10:30 Leave Sta Fe Port
12:08 Arrive Hagnaya Port; Take trike (P20) to Eskina Don Pedro
12:31 Arrive in Eskina Don Pedro and wait for Maya bound Ceres Bus (P34)
1:18 Arrive in Maya Wharf; Wait for 1:30 PM Boat trip(P80) to Malapascua
1:41 Boat leaves Maya Wharf
2:34 Arrive Malapascua island; Tour Shoreline
4:12 Pitch Camp
7:11 Head to Nearby bars for some beer(Maladpascua Legends beer was P70/500ml red horse)
9:30 Back to Tent
separate blog entry for Malapascua Island
here
Bakhaw Beach, Santiago, Camotes Island
Mongodlong Beach, Santiago, Camotes Island
7:30 Malapascua Island; Wake Up; Quick pack to catch the 8:00 boat trip back to Maya Wharf
8:00 Arrive in port; take small boat to the bigger boat; P20/pax
9:10 Arrive in Maya Wharf; Since bus has left, take Habal to catch the bus in Daan Bantayan
12:23 Arrive in Danao Port; Jomalia Ferry has left and the only available boat is the Junmar; P180 + P10 terminal fee.
3:01 Boat arrives in Santiago beach to drop passengers; Guests who rides JunMar lines going to Santiago, Mongodlong, and even Bakhaw may get off from this port. The Jomalia line heads straight and stops in Consuelo Port, which is closer for Bakhaw beach. Guests of Mongodlong beach have a free pickup in this port. Meantime, thru Junmar lines, we thought about checking out the other towns since this ferry drops on Santiago, San Francisco, Poro, and Pilar ports.
3:40 Arrive in San Francisco Port
4:10 Arrive and Get off in Poro Port; Walk towards municipal hall.
4:31 Arrive in the Municipal hall, to be met by the Tourism officer and Municipal mayor; Take picture of Boho Church
5:05 Leave Municipal Hall; To be dropped off to Buho Rock Resort
5:13 Arrive in Buho Rock Resort; Pictures; Cliff Dive; Clean, Dine and rest.
Bukilat Cave, Tudela, Camotes Island
3:30 Wake up Time. Walk towards the highway.
4:30 Buho-San Fran highway and wait for the shuttle bus to Consuelo port. Fare was P70
4:47 Bus Arrives;
5:30 Arrive in Consuelo Port; Buy ticket and roam around town; Take Habal to Santiago White Beach. The Habal Charge to Santiago beach from Consuelo was P100 one way for both of us, me and LAKADPINAS. Beach charge was P15/head but the collector isn't around just yet at that time.
6:40 Arrive in Santiago white beach
7:10 Take another chartered habal for an island Tour. The regular charge for whole day tour was P500, so as Motorbike Rental. I managed to haggle for P300 with driver and exclusive of gas. We initially loaded 2liters for P120 (But my driver filled again in Tudela for P100).
7:49 Arrive in Lake Danao. P15/head. Lake Danao offers paddling P100/head for 45mins. There is also a bigger balsa for bigger groups. There are crocodiles in the lake though so I'm not sure how fun that is, considering the size of the lake.
8:00 Leave Laka Danao; Drop LakadPinas to Consuelo Port, and head back to Poro for Bukilat Cave;
8:57 Arrive in San Fran Town Proper and take breakfast in the town. Meals were P35 + P8 rice. I tried the Yellow fin tuna boiled in ginger and chilli and it was nice. There are no danggit in that market. Tuyo was sold at P110 per kilo.
9:17 Leave San Fran Market.
9:28 Pass along Boho Municipal Hall.
9:40 Tudela Boundary
9:55 Arrive in
Bukilat Cave
; P10 entrance fee. Water is knee high, though I was assuming it can go higher during high tide. Explore, Pictures, Buy Camotes Cookies at P45/250g triangular pack. see entry for bukilat cave
here
.
10:29 Leave Bukilat Cave
11:29 Arrive in Timubo Cave; P15/head. Swim. It's a deep cavity with small passageway so ready your skeletal system. Pool is 5feet deep.
11:40 Leave Timubo Cave
11:57 Arrive in Bakhaw Beach; P5/head entrance charges. Open cottages were P150. Swim; Pictures; Explore. There is one resort in the vicinity though it did not seem to have any guest as it is not as popular just yet as Santiago white beach and Mongodlong. Apparently though, this is what I'd consider the best beach visited at that time.
1:04 Arrive in Mongodlong Beach Resort; P15 head for non-guests; P15 shower fee. Pictures; Swim; Shower & Change
2:00 Leave Mongodlong
2:13 Arrive Santiago White Beach and Late Lunch in REEESS Sizzling. They serve good sizzling squid for P80. They also offer cooking (pa-Luto) for P50 per kilo.
3:05 Leave Santiago white beach
3:20 Arrive in Consuelo Port; Wait for the 4pm Boat Departure
3:50 Board Jomalia Ship
4:13 Leave Port
6:49 Arrive in Danao Port and walk towards bridge to catch the bus heading to Cebu North Bus Terminal; There are bicycle services from port but not really necessary.
8:30 Arrive in SM City. Have Dinner. Internet café to scout for nearby Motel. Take Cab and head to Moonlight Hotel in Mandaue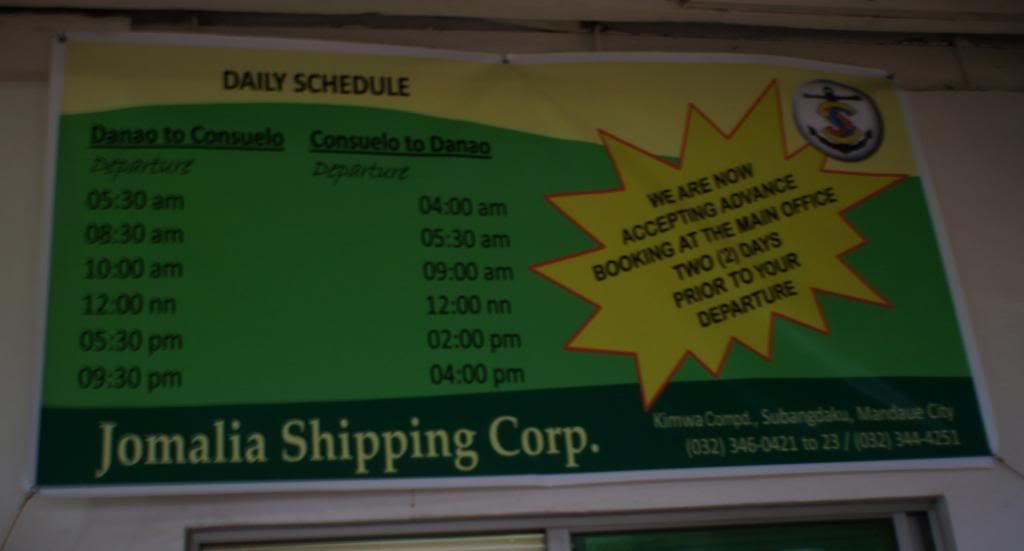 Jomalia shipping lines schedule from Danao Port, to Consuelo Port in Camotes Island, Cebu
*My corteous habal habal service Jessie, may be contacted at 09493917831. It's actually her sister's mobile so just ask to be transferred. I spent P520 for his service all in all, including Gas (exclusive of his meals). Other Habal habal services offered P500 for a whole day tour though im not sure if that would have included those places in BUHO. Negotiate with Jessie for P500 (shared by 2 passengers) whole day tour including Bukilat Cave. Don't ever miss that in your itinerary.
*Fare from SM City to Moonlight hotel was P70; Motel rate is P200/3hours and P50 per additional hour. Moonlight hotel is near 'mO2" bar and close to ParkMall. I was advised later that the vicinity is not safe for walking; The cab on the following morning wanted to charge P100 additional, but I got off and took another for meter charge. It was P105 to the airport. The room was really big, but water was quite scarce. Walking distance from SM City is SUGBUTEL which is a dormitory type hotel for P250/night. They also have a published promo for P99/night if booked 30 days advance online. The sugbutel rates above are on a upper bunk accommodation on 6 beds/room, I think).
*Contact nos for Mongodlong beach are 032-3163352/3458599/3446899/4203385 09173290563. Interim rates are P1K for non aircon, and P1.3K for aircon, both 2-4pax. Additional person is 200 for non AC, and P300 for AC. Cash basis only. The resort next to it "Paradise XXXX", didn't quite catch the name, seems to have a better beach and rooms.